Lady Cathy Ferguson: Former Manchester United manager Sir Alex Ferguson's wife dies aged 84
Lady Cathy Ferguson, the wife of former Manchester United manager Sir Alex Ferguson, has died aged 84.
The couple married in 1966, spending 57 years as husband and wife, and had three sons, including Peterborough boss Darren Ferguson.
"We are deeply saddened to confirm the passing yesterday of Lady Cathy Ferguson," a statement from the Ferguson family said.
"The family asks for privacy at this time."
Flags at Old Trafford have been lowered to half-mast as a mark of respect, and the men's and women's teams will wear black armbands in their fixtures this weekend.
Manchester United said in a statement: "Everyone at Manchester United sends our heartfelt condolences to Sir Alex Ferguson and his family on the passing of Lady Cathy, a beloved wife, mother, sister, grandmother and great-grandmother, and a tower of strength for Sir Alex throughout his career."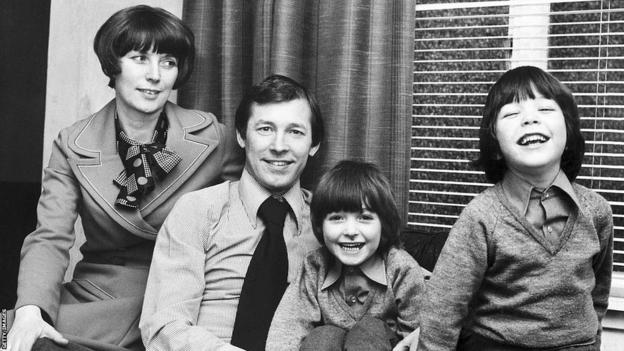 Born Cathy Harding, she met Alex Ferguson while they were both working at a typewriter factory in Hillington, Glasgow, in 1964.
Revealing how she felt when she first met him, Cathy said: 'I just saw him walking through and I thought he was a thug.
'Then I found out he was a footballer and that didn't make him any different to me'.
Lady Cathy had been married to Sir Alex since 1966, when Glasgow was harshly divided by sectarianism – Lady Cathy was a Catholic while Sir Alex was Protestant – but the then-footballer was following the example of his father, who himself had 'broken a taboo' by marrying a Catholic woman.
For 27 of their years together Sir Alex was manager of Manchester United, and Cathy is said to have played a key role in persuading him not to retire in 2002.
Writing in his autobiography, Ferguson said she had told him: "One, your health is good. Two, I'm not having you in the house. And three, you're too young anyway."
When Sir Alex did announce his retirement 11 years later, he said: "My wife Cathy has been the key figure throughout my career, providing a bedrock of both stability and encouragement.
"Words are not enough to express what this has meant to me."
Several clubs paid tribute to Cathy on social medial.
Manchester City posted on X: "Everyone at Manchester City sends their condolences to Sir Alex Ferguson and his family at this very difficult time."
Arsenal offered their "heartfelt condolences", adding: "May Lady Cathy rest in peace."
Sir Alex's former club St Mirren said: "Everyone at St Mirren Football Club sends its deepest condolences to Sir Alex Ferguson and family following the sad news of the passing of Lady Cathy Ferguson."
Aberdeen, another of Sir Alex's former clubs, also sent their condolences, while Peterborough said: "Everyone at Peterborough United Football Club offers our sincere condolences to Darren Ferguson and his family on the passing of his beloved mother, Lady Cathy."