Coronation cross will include 'crucifixion relics' gifted to Charles by Pope Francis
Fragments said to be from the cross on which Jesus was crucified will be included in a newly made Cross of Wales used at the head of the coronation procession in Westminster Abbey.
The relics of what is known as the True Cross were given to King Charles by Pope Francis, as a coronation gift.
The cross uses Welsh materials such as slate, reclaimed wood, and silver from the Royal Mint in Llantrisant.
King Charles hammered the hallmark onto the silver used in the cross.
The announcement about the new cross is a reminder that, alongside the pomp and pageantry, the coronation on 6 May will be a religious ceremony.
The cross, made by silversmith Michael Lloyd, is inscribed with the words of St David, patron saint of Wales. It is a gift from the King to the Church in Wales.
The coronation will be an Anglican service, but the prominent inclusion of a gift from the head of the Roman Catholic church reflects how other denominations and faiths will be represented.
Set into the silver cross will be two small wooden shards, originating from what is claimed to be the cross on which Jesus was crucified.
Such relics of the True Cross have been venerated for centuries, with pilgrimages made to churches where they are held.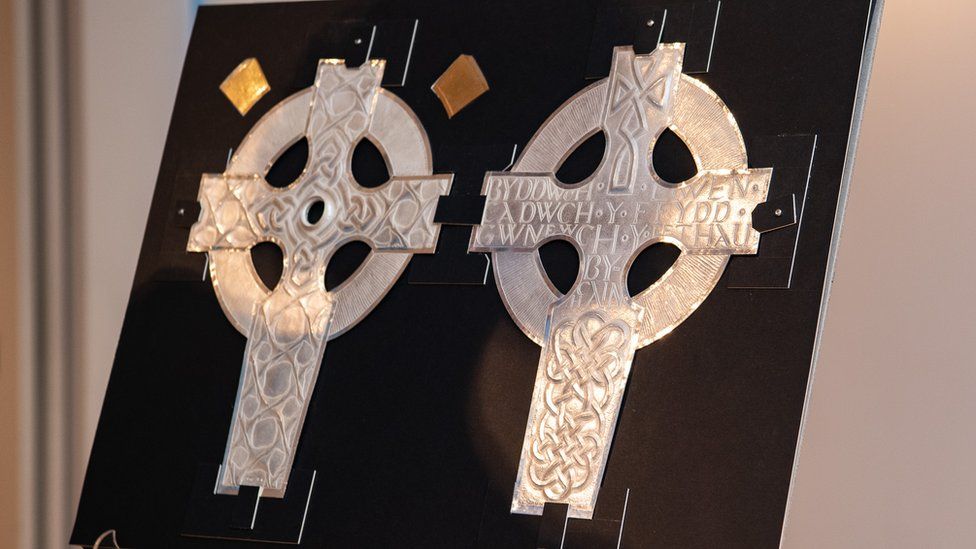 Archbishop of Canterbury Justin Welby, who is conducting the service on 6th May, has highlighted how the heart of the coronation is a religious ceremony, likening it to the ordination of a priest.
In a newly-published official souvenir programme, the archbishop says that in the middle of all the "magnificence and pomp" is a moment of "stillness and simplicity" when the King is anointed with holy oil.
The archbishop says the anointing will see the King in a simple white shirt, rather than "robes of status" and he says the King will be "in the full knowledge that the task is difficult and he needs help".
This is a moment not previously seen by the public, and did not form part of the television coverage at the coronation of the late Queen Elizabeth in 1953.
There has been speculation about whether or not it will be visible for next month's ceremony, but current expectations suggests it will remain a private moment in the coronation proceedings.
Alongside some opposition to the coronation from anti-monarchy groups, a survey on Tuesday raised questions about the level of support for public funding of the occasion.
The coronation is a state event, but a YouGov poll of 4,000 adults found that 51% were against the government paying for it, compared with 32% who supported state-funding, with the rest saying they "didn't know".
Among 18-24 year olds, 62% thought the government should not fund the coronation.
The amount that it will cost the government will not be revealed until after the event.
______________
SOURCE: